As we talked about in our previous post, we told you about Corporate Social Responsibility (CSR) and how we apply it in OpenSistemas in different sectors. One of them is sports. CSR is the commitment that companies or organizations have with the environment and society. As a for of our after-covid Corporate Social responsibility, OpenSistemas collaborates with different sports clubs and offers them support by organizing activities together.
After-covid Corporate Social Responsibility applied to sports clubs
JUDO FONTENEBRO. Stronger together
In these years of constant collaboration, we have organized many activities together. For example, in one of our summer parties known as OpenSummer – in which all OpenSistemas colleagues get together to see each other and enjoy some time together – Marina Fernández and Sofía Hogrefe, two professional Fontenebro's judokas, gave a Judo exhibition.

Also, members of Judo Fontenebro have visited our offices to share in our internal events called TechFriday their experiences, goals, challenges, how they work with kids, how they manage to combine their studies with judo…
TRISPORT. Running as a team
More than five years ago, our colleague Álvaro García, Sales Manager at OpenSistemas, introduced us to Trisport. "It was just at the time when Trisport started to have more competitions," Álvaro tells us. "To become a more established official club". Álvaro has been a member of the club for a long time and it was him who started the relationship between the club and OpenSistemas.
This is how, in OpenSistemas, we became sponsors of Trisport, giving importance again to sport and promoting teamwork, responsibility, perseverance, optimism, support among teammates…
Trisport's members and athletes prepare and participate in triathlons above all, but they also take part in other sports disciplines. Álvaro has participated in many of these triathlons!
He says that "what I value most of all is the companionship, the union between people. Discovering the values of a team that trains, encourages and supports each other in order to achieve our goals and challenges together".
At the same time, he talks about the importance of perseverance: "it is important to be constant and to learn to combine long training sessions with work and family life".
The pandemic has not stopped them and it was just a month ago when they ran a triathlon and since they have resumed sporting activity, they are already competing again. Olga Villanueva, an athlete who has been a member of the club for years, reached the podium in a triathlon held last June.
Here are some photos of the participation in the tenth edition of the Riaza triathlon, in Sprint and Olympic categories, with outstanding participation of Olga Villanueva and Isabel Pérez Jiménez: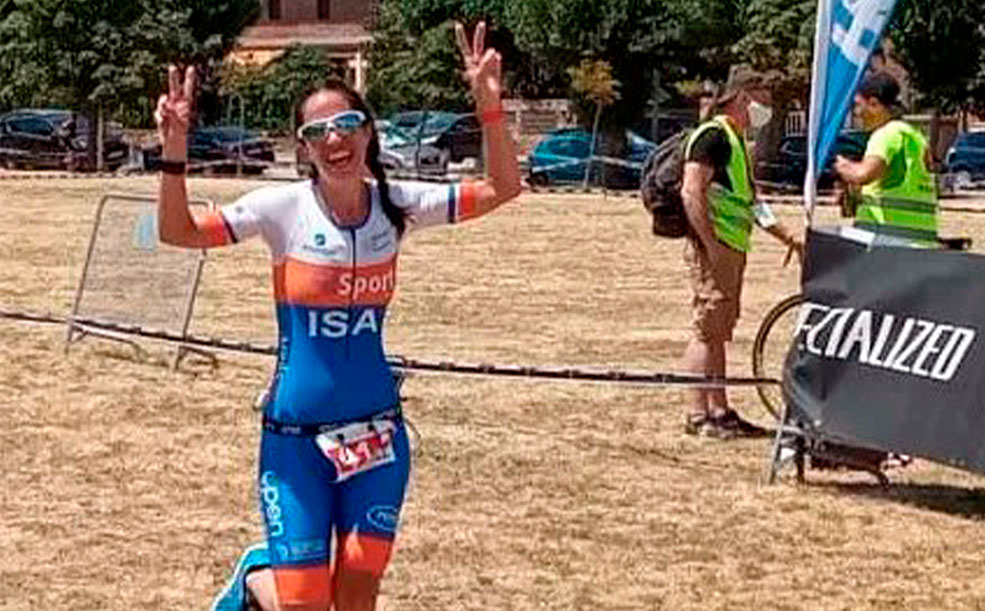 We hope to be able to bring back all of these activities very soon! We have many ideas in mind for the future and from OpenSistemas we continue to support more than ever the role of sport in our society and we will always promote all its positive values.
So, little by little and with a lot of positivity, enthusiasm and perseverance, we are building a better future through collaborations with Judo Fontenebro as part of our our Corporate Social Responsibility framework, so important nowadays and necessary to improve human rights, employment and contribute to the improvement of the environment and society.