Microsoft's partner community and ecosystem is essential for delivering transformational solutions to customers. Each year, we hear countless success stories from customers around the world and from industries that depend on the innovation, dedication, and service of the partners in this network. But in the last year since Microsoft, we've seen firsthand exactly what the partner community has to offer in a dramatically changing world: unlimited potential. The potential to adapt, connect, innovate and achieve more.
The Microsoft Partner Network serves as a catalyst to equip companies and customers with the technology and tools needed to succeed in an evolving digital economy.
On its seventeenth anniversary, the global Microsoft Inspire event has been celebrated for the first time in a uniquely digital way, a change that manifests the times we are living in, as well as the resilience of all the partners that are part of this huge and innovative network. It is an example of how the ecosystem has continued to help customers adapt to a dramatically changing environment.
From Africa, through Antarctica, to the Americas, Asia and everywhere in between, this associated ecosystem is driving the digital transformation around the world and Microsoft Inspire has served as a space for connection, reflection and analysis of what has happened during the past Fiscal Year, and for looking forward to how we can grow collectively both in the near future and in the long term.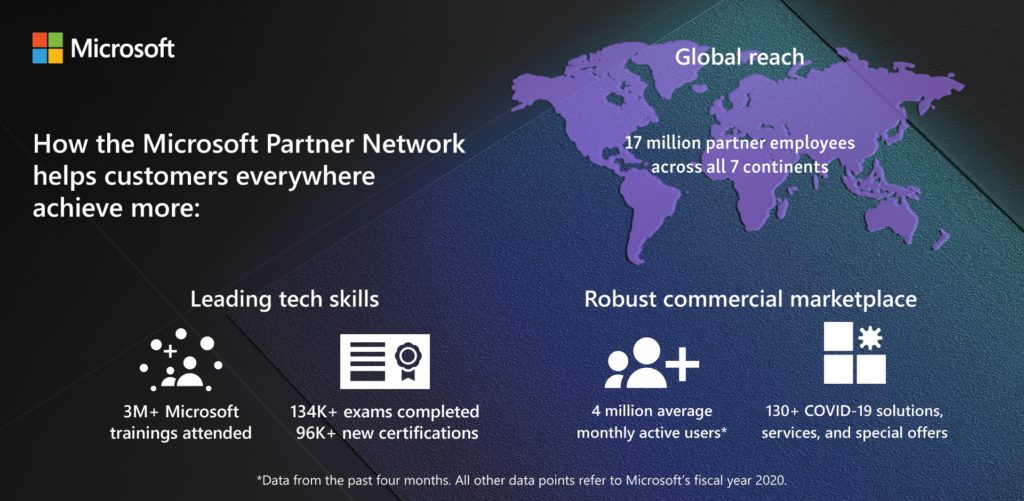 Some of the highlights of the event
Microsoft continues to build innovative bridges for partners to serve customers and manage their businesses amidst changing work environments.
Azure Lighthouse enhancements provide multi-factor authentication and Privileged Identity Management support, which are direct results of customer feedback.
The Cloud Practice playbook series for partners continues to expand, with two new books aimed at helping partners build effective practice in the cloud.
Two new service packs for Lenovo Managed Services are designed to help small and midsize businesses support the productivity, security and collaboration of Microsoft software.
The new Power Platform solutions can help employees return to the workplace safely by enabling customers with tools for location readiness, employee health and safety management, workplace care management and location management, so they can continuously monitor conditions and respond when needed. Partners can bring these solutions to customers. This was evident during the initial response to COVID-19 in March and April, with solutions such as the Crisis Communications Template, which enabled customers to quickly deploy customized solutions for their specific needs.
Azure continues to help companies accelerate their journey to and in the cloud
Azure Stack HCI, the latest in Microsoft's hybrid offering and now in public, brings hybrid capabilities to customers' data centers while allowing them to leverage existing skills and investments.
Azure Migrate enhancements allow customers to respond to rapidly changing conditions in record time by performing richer data center assessments, enabling server migrations, and adding container application modernization.