Gartner has published its Magic Quadrant for Cloud Infrastructure and Platform Services report in which it evaluates the leading cloud providers offering cloud infrastructure platform services, taking into account their strengths and the cautions that should be taken when choosing them.
The organisations analysed are:
Alibaba Cloud
Amazon Web Services
Google
IBM
Microsoft
Oracle
Tencent Cloud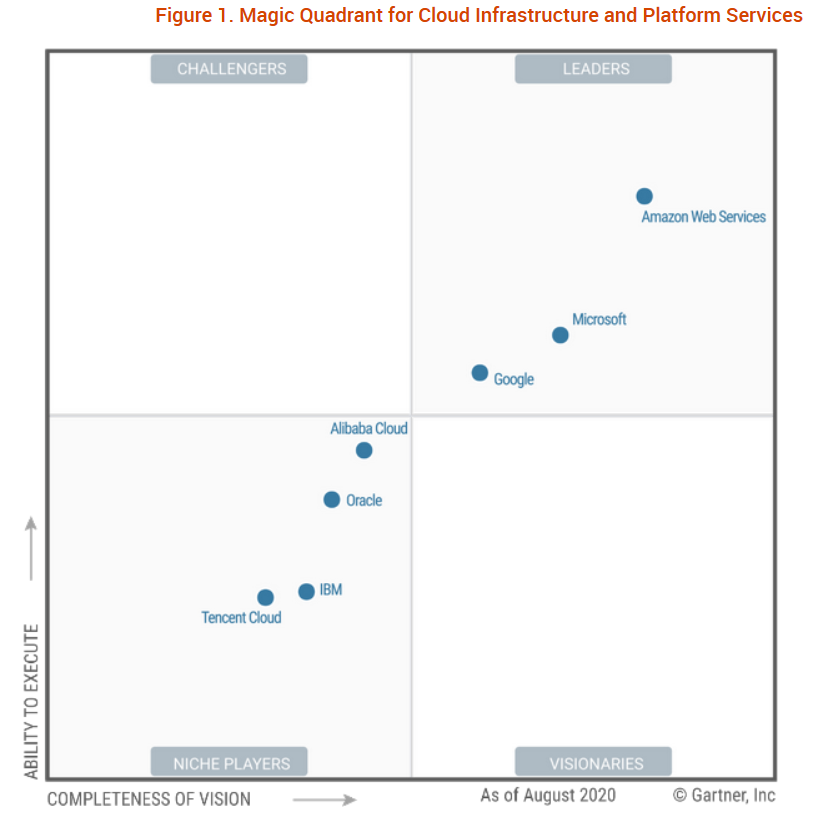 The scope of this Magic Quadrant has changed, compared with its predecessor, the "Magic Quadrant for Cloud Infrastructure as a Service." Gartner has developed this Magic Quadrant to reflect the changing dynamics of cloud services offered and the ways that enterprise customers adopt them. Ultimately, hyperscale cloud providers, and the broad array of services they offer beyond infrastructure as a service (IaaS), have found strategic importance in Gartner's enterprise clients and the Magic Quadrant needed to evolve to reflect as much.
The scope of the Magic Quadrant for CIPS includes IaaS and integrated platform as a service (PaaS) platforms. These include application PaaS (aPaaS), functions as a service (FaaS), database PaaS (dbPaaS), application developer PaaS (adPaaS) and industrialized private cloud offerings that are often deployed in enterprise data centers.