Did you know that we are visual animals? 90% of all information that reaches our brain is visual and we process images up to 60,000 times faster than any text.
Studies claim that we retain 10% of the information we hear, 20% of what we read, but up to 80% of what we see.
This says a lot about how we learn better and how we can communicate better. Data visualization appeals to this. In a world full of information, understanding data is becoming increasingly important. In this article, we talk about data visualization examples, tools, and much more.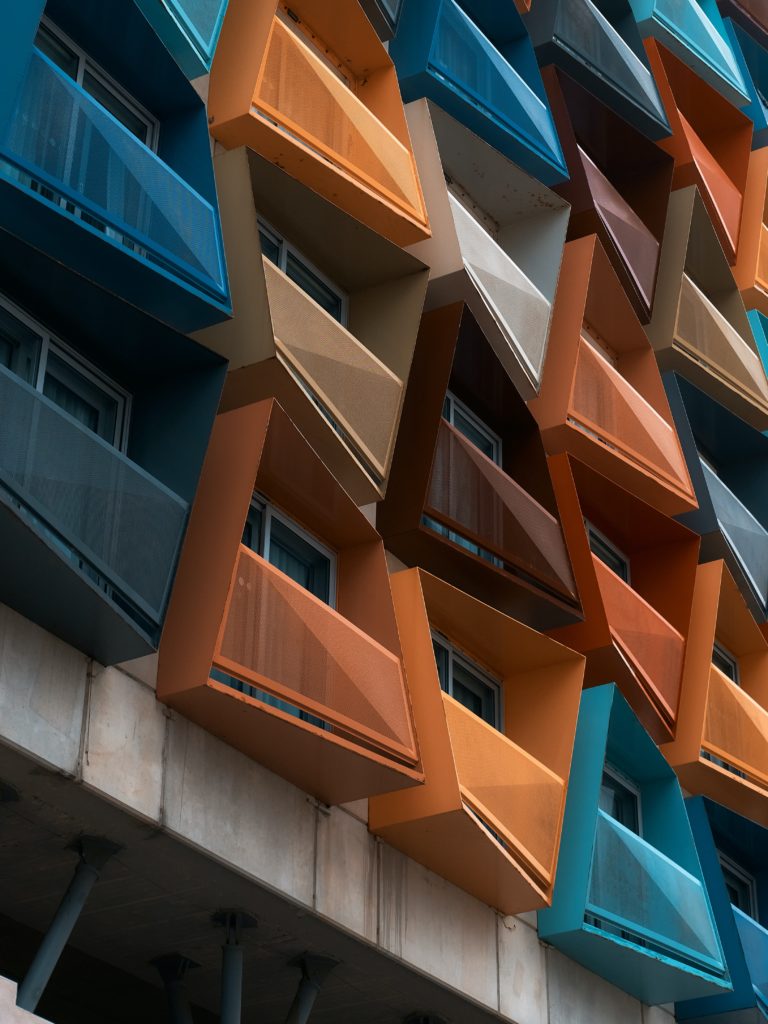 What is data visualization? Its importance for Big Data

Data visualization is a tool used by almost all professional sectors to visually express a set of data. Visual elements such as graphs and maps are used to make it easier to understand trends, outliers, and patterns in the data.
In the vast amount of data in a company and the world of big data, data visualization is essential to make better decisions. Especially in the field of technology, data visualization has become a vital tool.
Data visualization amazing examples

There are many ways in which we can represent data, through bar charts, tables, infographics, dashboards, etc. Excellent and engaging data visualization requires graphic design and storytelling skills in addition to excellent analytical skills.
Here are some great data visualization examples to inspire you:
Data visualization examples on a global pandemic.

Given the health emergency caused by Covid-19 that started in 2020, we have realized the importance of data. Most probably we all paid great attention to figures such as the number of infected, deceased, and recovered.
The correct representation and visualization of data have been key to understanding these figures very well. Many governmental entities around the world have been in charge of collecting this data and transmitting it in a way that is understandable to everyone.
Below is a graph of the cumulative incidence of COVID cases in Spain. It is a line graph showing the number of cases in the months of the year. We can see that thanks to the graph it is easier for us to understand in which months there have been more cases.
Vaccination against COVID

Another example is the following scatter plot, where we can see the percentage of population fully vaccinated and percentage of population vaccinated at least once against COVID for all countries to date.
https://datawrapper.dwcdn.net/iufJn/72/

Data visualization examples of the world's languages

After Babylon is an interactive visualization project where the languages of the world are presented in a collection of maps and charts using the World Atlas of Language Structures.
All 2678 languages are here, showing where they originate, where they are spoken, and the populations of speakers. It even shows relationships between them, such as language families and loanwords, and word exchanges between languages.
Here is an example of a very interesting interactive graphic from this project. In this case, the most used words "exchanged" between languages: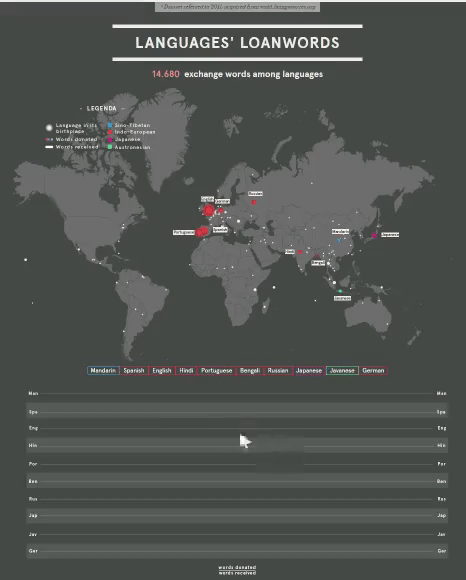 Visualization of the world economy

This is an infographic made by Visual Capatalist where we can see the GDP of the world economy for the year 2021.
With a nominal GDP of $22.9 trillion, the US accounted for about a quarter of world output according to IMF estimates. Following the US is China with $16.9 trillion and Japan with $5.4 trillion.
This infographic perfectly shows how visually appealing we can represent data in an unconventional, yet accurate way.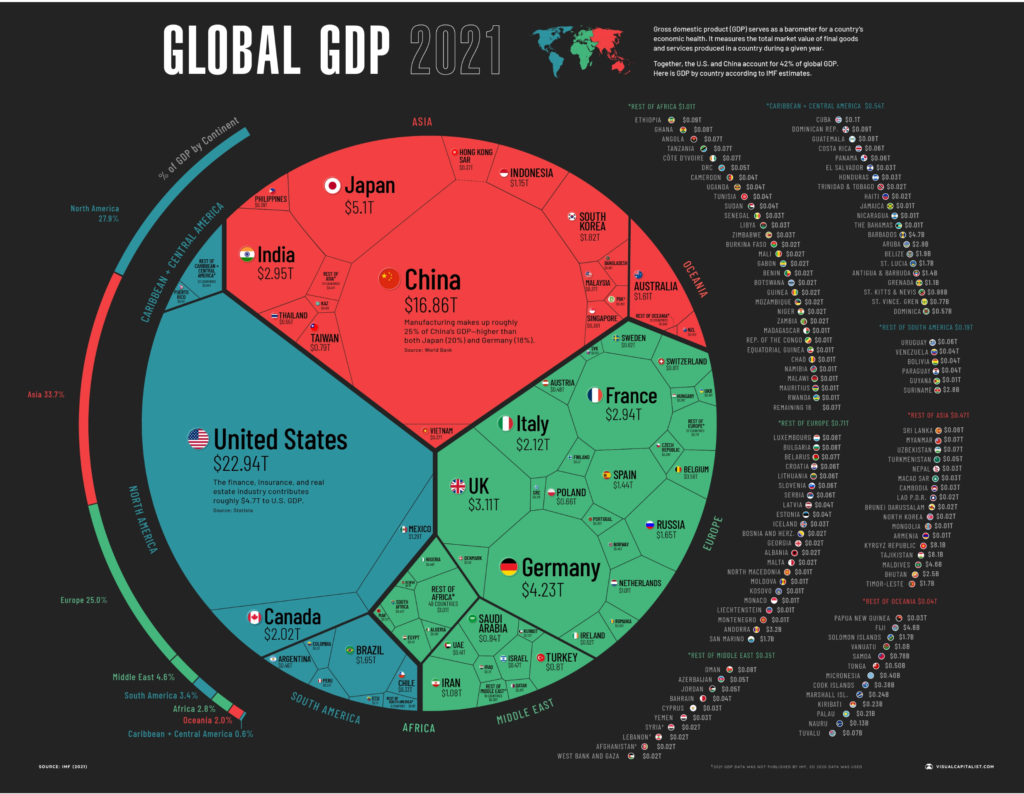 Data visualization examples map of the world's cell towers
This network that resembles many patterns we see in different things in our universe like the galaxy or in the human body like neurons, is OpenCelliD. This is the largest open database of cell towers in the world.
It is an interactive map where we can see the impressive network of cell towers lighting up all over the world. This map is one of the most accurate publicly available data sources for telecommunication-related projects.
On the map, we can distinguish places in the world where there is desert or there is little population and therefore there are few cell towers in these areas.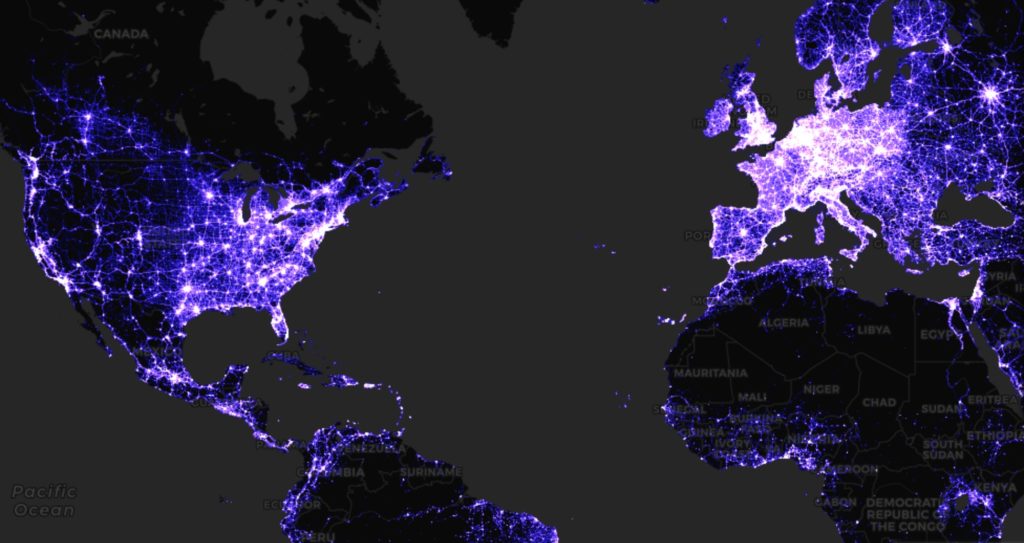 Main tools to make data visualization

You can make all kinds of graphs and there are plenty of tools that can help you with this. However, choosing the right tool for what you want to do will depend on the amount of data you have, the target of people you want to show the chart to, the level of complexity you want to make the visualization, if you want it to be interactive or if you want it to be more visually appealing.
If you are looking for tools that allow you to handle a considerable amount of data and are easier to use. Here are the tools most used by professionals, especially those dedicated to the technology sector:
Microsoft Power BI

Power BI is a very intuitive and easy to use tool that allows you to work with a certain amount of data and generate interactive dashboards with different types of graphics. If you are used to using Excel, this is an excellent tool that will allow you to go one step further than usual.

Tableu

Tableu is one of the most popular and complete data visualization tools. Its interface allows you to generate visualizations on large volumes of data. It also allows you to analyze data from multiple sources at the same time. Salesforce owns Tableau.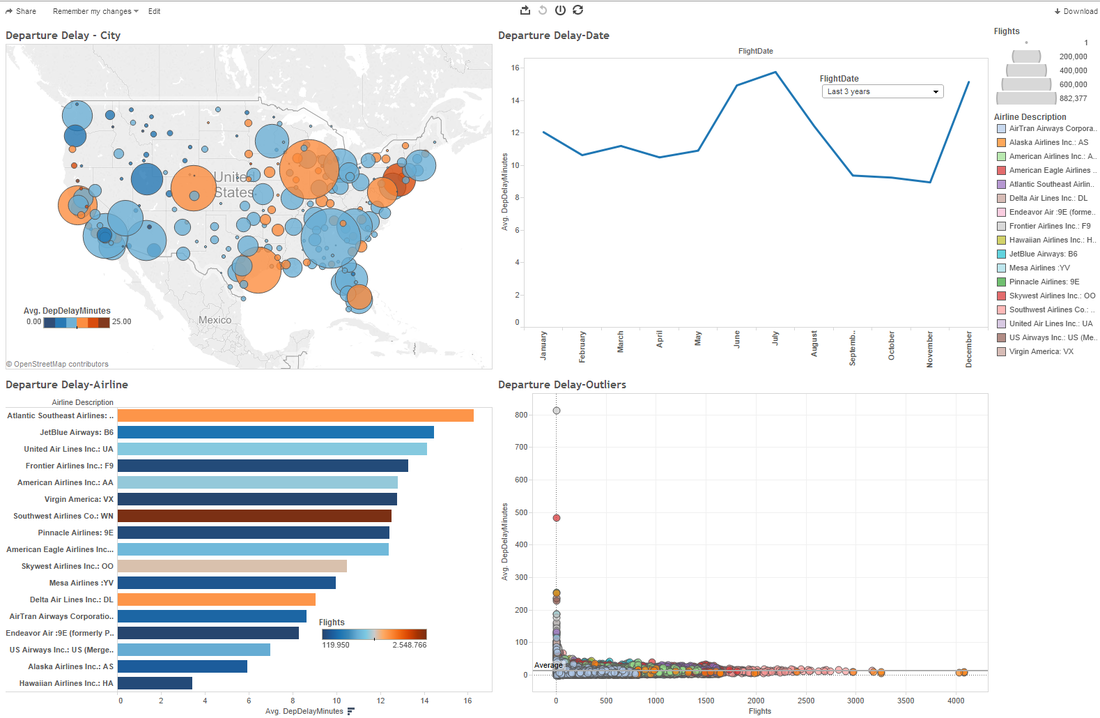 Qlik

Qlik is Tableau's biggest competitor. It is a more advanced tool that is usually used by enterprises. also, it is focused on people who want to use augmented analytics to analyze data.
QlikView is the more popular of the two, it stands out for its simplicity, with a highly customizable configuration, allowing users to make data-driven decisions. The application is accompanied by QlikSense, a simpler version for creating flexible and interactive visualizations.
DataWrapper
DataWrapper is a tool that is becoming increasingly popular among professionals for its ease of use interface. This tool offers the creation of graphs and infographics in an intuitive way. It offers a wide variety of charting options, from simple bar charts to much more complex options.
In conclusion, data visualization is undoubtedly the best way to translate data into a visual image. This way we can better understand a large amount of data in a short time and nowadays it is a vital tool for any professional.
In this article, we gave you several examples of data visualization that you can use as inspiration for your projects. So don't lag behind and start giving a plus to your data!